Kiev kitchen for gourmets. Places for dinner – best restaurants

It is not easy to choose the best among hundreds of restaurants in Kiev. Let's first describe the most attractive national cuisine restaurants in the city. The attractive restaurant "Warenitschnaja N1" has the style of the past centuries, the specialty of this restaurant, as you can guess from the title, are cheese dumplings (Ukr "Wareniki"). Here this popular national dish is cooked in twenty variations. Visitors can also order various interesting vegetable dishes and drinks as a supplement.
A wide range of national dishes is offered in the restaurant "O Panas", which includes both popular main courses, meat dishes and various desserts. The restaurant "Panska Wtiha" will delight the guests not only with the rich menu, but also with the interesting entertainment program. It has the unusual status of "folkloric restaurant". The matter is that entertainment programs with participation of the best dance and musical groups of Kiev for guests were carried out regularly.
There are restaurants of different directions in Kiev. The restaurant of the French cuisine "Gorchitsa" is very popular among the residents and guests of the city. Recognition of constant customer satisfaction has won the restaurant thanks to the excellent quality of the food and the favorable prices. Fans of Italian cuisine (among which there are many celebrities) like "Walter Rossit" restaurant. Here, excellent risotto and the paste with the sea products, the delightful specialties and desserts are prepared. The popular Italian wines are the perfect complement to the food. 
If you want to taste the real Italian pizza, you can visit the Restaurant Napule. Here is pizza as a specialty. Vegetarians, but also fans of meat dishes, and lovers of seafood will certainly choose a suitable dish among dozens of pizza varieties. Restaurant Napule is also great for rest in family circle – visitors with children can also have special menu.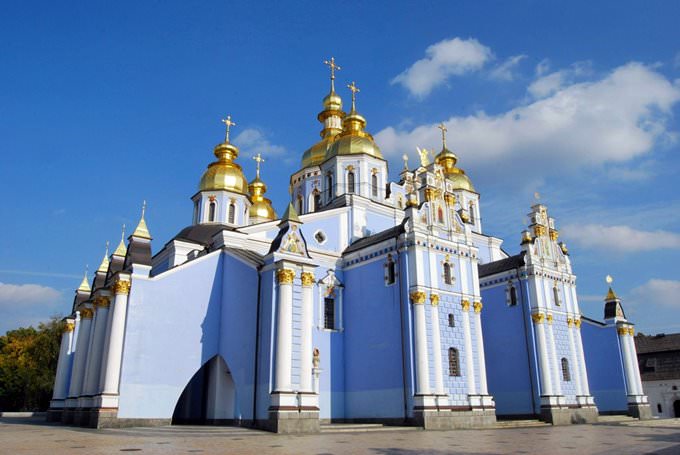 Guests are offered a wide selection of Moroccan dishes in the Marrakesh Restaurant. Its hall is decorated in an original eastern style, everywhere you can see the gold embroidered pillows and handmade carpets. Such a facility will be a pleasant complement to the meal and will allow you to distract yourself from the everyday hurry. Among the restaurants of Asian cuisine you can choose Grill Asia – the basis of its menu is the food prepared on the grill. The meat dishes of the restaurant are particularly popular among visitors. 
In Kiev restaurants it is worth trying traditional Ukrainian dishes. They serve delicious borsch with garlic donuts (pampushkas) and dumplings (varenyky), an indispensable dish on the menu of regional restaurants. Their variety is simply amazing, the dumplings are prepared with dozens of different fillings. There are very hearty warts with mushrooms, meat and potatoes, while desserts may contain various fruits and berries. Unsweetened dumplings are usually decorated with fried onions, sour cream or fresh herbs before serving. For sweet dumplings, there is a special sugar syrup that makes the dish even sweeter.
Everyday meals for locals are kohledets when eaten solely for the purpose of using the leftover meat. Today, the best meat products are selected for cooking kohledets. It is usually made from beef or pork. It is always common to serve jellied meat with fresh bread and a special sauce of fresh horseradish or mustard.
In Kiev, presented restaurants serving regional cuisine will certainly appeal to all lovers of meat dishes. They prepare dozens of hearty meals with beef and pork, while poultry meat is much less commonly used in national cuisine. A special menu item is local sausages, which can be tasted not only in local restaurants but also on local markets. Homemade sausages are mostly made from pork. During cooking, various spices are added to the minced meat to make the taste of sausages very rich.
The inhabitants of Kiev are big fans of salo (cured fat), which can serve as independent products or as a complement to various dishes. It can be steamed, fried and even cooked. Salo is also used to make traditional garlic bread rolls. Fans of unusual soups must try Kulesh in local restaurants. This original soup was cooked by the Zaporozhian Cossacks many years ago. Today, his various recipes are popular in many regions of Ukraine. Compulsory ingredients are cereals and salum, which are added to the soup just before serving. In addition to these components, various meats, seasonal vegetables and vegetables can be used. Fans of desserts should pay special attention to sweet pastries in Kiev restaurants.